I'm Ibrahim Loukili, a Digital Designer and freelancer. As a well rounded Interaction designer I make sure that systems, interfaces and graphics are humanfriendly, emotive, aesthetically pleasing and usable. The ability to see the big picture as well as being a fast learner makes me capable of working in areas of all types. This portfolio represents a few of the things that inspire me about my work.
The things I accomplished in live
Freelance User Experience, Brand & Motion Designer
I started as a freelancer & student-entrepreneur so I could use my skills to help businesses grow with their online and offline communication. This succeeded so after my studies I worked as a full-time Digital Designer and focused on UX/UI design, branding & motion design.
Freelance Graphic & Motion Designer
Currently I'm also working for Yappa as a freelance Graphic & Motion Designer. Yappa is a design agency that 'build' and 'boost' digital solutions for a wide range of companies. I mainly work on designing visuals and animating motion graphics for social media content.
Co-founder & digital designer at Juiced
Together with two other students we founded Juiced, a young creative design studio, alongside our studies. Juiced is a one-stop-shop for the online and offline communication of SMEs, small businesses, start-up's, … Together we build and launch their success story. At Juiced we create outstanding websites, corporate identities and design printmedia. Our young vision has the advantage that we are strong in designing and developing websites, graphic design, branding, social media, …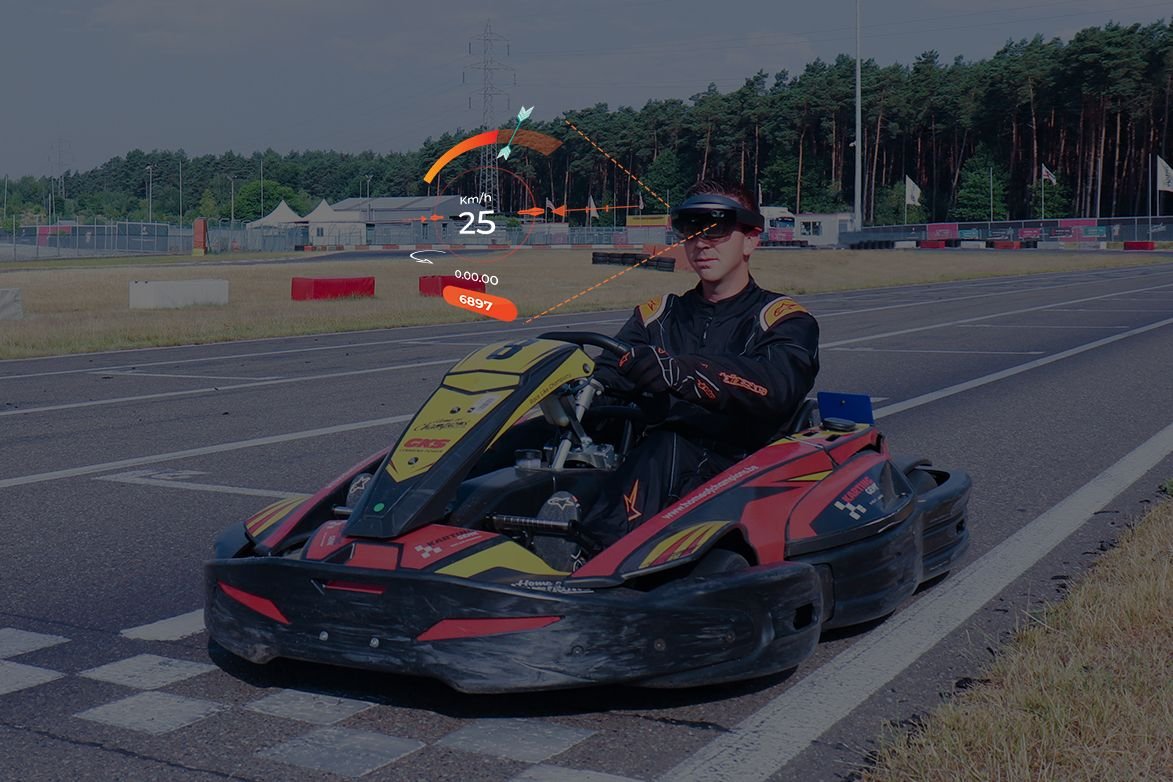 Summerjob UX/UI designer
With a group of three students we worked this summer at Mediaan on a project called 'Mixed Reality Karting'. Mediaan is willing to improve a drivers karting skills with the help of Augmented Reality and the Microsoft HoloLens. These mixed reality glasses provide the driver with real-time tips & tricks. In this project I was the UX designer who designed the interface of the AR experience. During the World Championship at Karting Genk on September 9th we gave a demo in the VIP area.
Web designer & front-end developer at Netropolix
During my student years I worked as a freelance web designer & front-end developer at Netropolix.
Academic Bachelor Communication and Media Design - Interaction Design
I finished my studies at the university of KU Leuven (at the campus Luca School of Arts in Genk) and obtained an academic bachelor degree in Communication and Media Design - Interaction Design. Interaction Design (IxD) is the design of interactive products and services in which a designer's focus goes beyond the item in development to include the way users will interact with it.
Intern Digital Designer & Content Creator at Mediaan
For my internship assignment I joined the team of Mediaan for 3 months. The internship at Mediaan has brought a lot of opportunities for me. I have learned a lot and I have worked in challenging projects for international clients. They were very happy with my work during my internship and gave me outstanding score of 18/20.
Finished Secondary degree in Industrial Sciences
After a lot of hard work, I finally finished my Secondary degree in Industrial Sciences at 'Technisch Instituut Sparrendal' in Lanaken. Today this course is called 'STEM' and stands for 'Science, Mathematics, Engineering & Mechanics'.